Campervan Hire Hampshire
If you're in desperate need of a break, our campervan hire Hampshire experience is the ultimate way to escape the daily grind. Collect your VW camper from our Southampton depot and explore the great locations in Hampshire.
Hampshire is blessed with a number of seaside resorts and two national parks: the New Forest and the South Downs, plus Paultons Park and Marwell Zoo. Hampshire is also home to the amazing Beaulieu Car Museum and has some stunning salmon fishing rivers, including the Test and Itchen.
Experience
The Open Road
Along with beautiful Hampshire country roads through two national parks, you'll also find some beautiful coastal roads to explore the county.
Experience
The Hampshire Life
Among Hampshire's traditional villages you will find thatched cottages, medieval churches and pretty gardens - representing the very best of the English countryside and providng the quintessential rural retreat.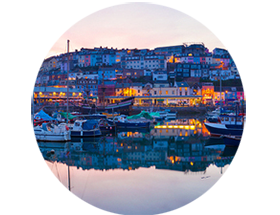 "Good company. Very efficient and helpful. Nice choice of vehicles. Very customer focussed. Really enjoyed our weekend hire. Would happily use them again"
VW Camper Hire Customer
Experience
New Forest Life
The New Forest is an ancient forest regarded as a jewel in the Hampshire countryside. Standing at 145 square miles, it's a place of amazing wildlife and breath-taking scenery. In ancient times, the New Forest was a hunting reserve, but today it's a working forest and you can still see many of the traditional forest ways of life.
"VW Camper Hire are renowned for their superb customer service and stunning campervans. Highly recommended for unique campervan experiences"
Rob Buckley, UK Travel Writer
Experience
South Downs National Park
South Downs is England's most recent national park, spanning an area of 628 square miles in southern England, from Winchester in the west to Eastbourne in the east via Hampshire, West Sussex and East Sussex. An area of outstanding beauty, the national park covers the chalk hills of the South Downs all the way to Beachy Head. This is an ideal location to explore in a campervan!
Hiring Your Van
Our Southampton and Devon depots are accessible via major motorways and public transport, making it easy for you to rent your campervan. We offer a fleet of 14 VW campervans, all of them unique in their own way. Choose from T2s, T5s and Splitscreens and find the perfect van to take you on an unforgettable adventure.
Each camper is furnished to provide maximum comfort on your journey and kitted out with all the mod-cons you need to survive on your trip. This means you can go back to basics and enjoy life on the road without having to sacrifice the essentials!
Hiring a VW camper is the best way to experience Hampshire, giving you the freedom to explore and take in the scenery without the fuss of organising accommodation and itineraries. So what are you waiting for? Book your van and start planning your getaway.
Why Choose us?
At VW Camper Hire we believe we are not just providing a vehicle hire - its more than that - its a unique and special experience that we really want you to enjoy! So we do as much as we can to cater for all your needs to make sure you get the adventure you deserve!
Choice of Pick Up Points

With two bases - one in Southampton, Hampshire and the other in Sidmouth, Devon we are perfectly place to offer perfect VW Campervan holidays!

Stunning Campervans

We have a spectaular fleet of campervans with a choice of classic, retro and modern luxury campervans.

All Right Hand Drive

We don't believe that left hand drive vehicles provide a great experience in the UK so you won't find a single left hand drive campervan on our fleet!

Full Inventory Included

You literally need to turn up with your clothes and bedding and off you go! Included is crockery, cutlery, utensils, gas plus all the other camping items for a perfect trip!

Bluetooth Connectivity

All the campers have been updated to a modern luxury standard and feature iPod & iphone connections along with everything else you would expect as standard.

AA

Insurance Included

You are covered with self drive hire insurance and full AA breakdown cover plus 24hr support from VW Camper Hire!

Sunday Drop offs

If needed we can accomodate Sunday drop offs to suit your needs.

No Hidden Charges

We believe you should know exactly what you'll pay, before you commit so you'll never get charged any hidden charages and all prices are clearly marked out when booking.

P

FREE On-site Parking

FREE Parking space for each booking in our car park.