Dorset through the window of a VW Campervan
Often a victim of being "on the journey" to Devon and Cornwall, Dorset has more than it's share of stunning scenery, idyllic country villages and beautiful beaches. Recently becoming England's first World Heritage site – The Jurassic Coast has 95 miles of rugged clifftops, peaceful coves all of which can be investigated as part of a trip.
Experience
The Jurassic Coast
Swanage is a great place to, start, the chalk stacks of Old Harry Rocks pretty much mark the beginning of the Jurassic Coast and is accessible by following the South West Coast Path, the entry to 95 miles of beautiful scenery taking in many small coves and coastal villages.
Experience
Lyme Regis
Lyme Regis, famous for its geology and a prime destination for fossil hunters makes an ideal stop off if you're traveling in a VW camper van. The geology of the area means that fossil hunters can search for remains of sea creature which lived in the seas up to 180 million years ago. But, this seaside town is not just about old rocks. To the east of the town is the famous Cobb which dates from the times of Edward I and provides shelter for the fishing boasts still using the harbour to this day. Holding on to its routes, Lyme Regis has a beautiful golden beach and facilities which make it great for a family break.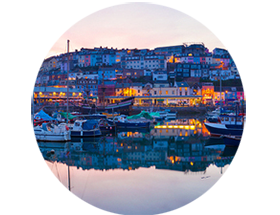 "Good company. Very efficient and helpful. Nice choice of vehicles. Very customer focussed. Really enjoyed our weekend hire. Would happily use them again"
VW Camper Hire Customer
Experience
Dorset Beaches
Often seen as the coastal flagship of Dorset, Bournemouth has miles of golden beaches and during the summer months draws in holiday makers from far and wide. There are a mixture of beach types, with something to suit everyone, from the golden sands and shallow waters of Sandbanks with some of the UK's most expensive property through to Boscombe beach favoured by surfers and where an artificial reef has been built purely to improve the surfing conditions. To the east of Bournemouth, and now connected is Poole with its quay and harbour holding many expensive and beautiful boats. Whether you're after some 5 star cuisine or a bag of chips on the key – you'll find it!
"VW Camper Hire are renowned for their superb customer service and stunning campervans. Highly recommended for unique campervan experiences"
Rob Buckley, UK Travel Writer
Experience
The Best of Dorset
Head east from the more populated areas of Poole and the pace of life slow a little (may be a lot). Starting with the beauty of Swanage and Studland, there is a long list of places to visit which are unspoiled and perfect for some rest and relaxation by getting off the beaten track a little. Places that include Durdle Door, Lulworth Cove and Chesil Beach offer the perfect environment to soak up the scenery, sit back and reflect on the pace of life with none of the bright lights and commercialised centre to provide distraction. There's more to do in Dorset!
Why Choose us?
At VW Camper Hire we believe we are not just providing a vehicle hire - its more than that - its a unique and special experience that we really want you to enjoy! So we do as much as we can to cater for all your needs to make sure you get the adventure you deserve!
Choice of Pick Up Points

With two bases - one in Sidmouth, Devon and the other in Southampton, Hampshire - we are perfectly placed to offer perfect VW Campervan holidays!

Stunning Campervans

We have a spectaular fleet of campervans with a choice of classic, retro and modern luxury campervans.

All Right Hand Drive

We don't believe that left hand drive vehicles provide a great experience in the UK so you won't find a single left hand drive campervan on our fleet!

Full Inventory Included

You literally need to turn up with your clothes and bedding and off you go! Included is crockery, cutlery, utensils, gas plus all the other camping items for a perfect trip!

Bluetooth Connectivity

All the campers have been updated to a modern luxury standard and feature iPod & iphone connections along with everything else you would expect as standard.

AA

Insurance Included

You are covered with self drive hire insurance and full AA breakdown cover plus 24hr support from VW Camper Hire!

Sunday Drop offs

If needed we can accomodate Sunday drop offs to suit your needs.

No Hidden Charges

We believe you should know exactly what you'll pay, before you commit so you'll never get charged any hidden charages and all prices are clearly marked out when booking.

P

FREE On-site Parking

FREE Parking space for each booking in our car park.